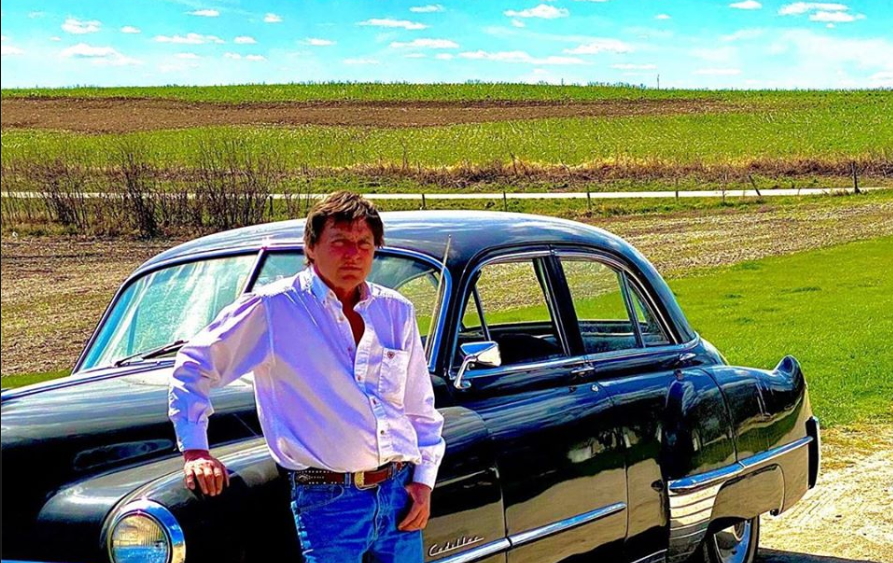 Ted Cline was born in 1962 as the 11th of 13 children.  His parents were hard-working tobacco share-croppers in Weston, Missouri.
By the time he was eleven, he was sneaking downstairs to play his older brother, Kevin's, guitar.  Their mama, Wilda Clemens Cline, had bought a guitar for Kevin at Barnes Music Store in nearby Leavenworth, Kansas, and was paying for Kevin's guitar lessons.  Wilda's Clemens side is believed to be related to the novelist, humorist and ultimate Missourian, Samuel Langhorn Clemens a/k/a Mark Twain.
Kevin (three or four years older than Ted) realized Ted was "messing" with his guitar and complained to Ms. Wilda.  She strongly suggested Ted should let it be.  He did not and could not.  She heard him playing distantly downstairs in their place on Spratt Road.  She went down to punish him, but Ted and Kevin's sister, Rita, stopped her in the hallway and said, "Just listen:  and he hasn't had any lessons."
Ms. Wilda did listen and promptly went back to Barnes Music and bought Ted his first guitar.  Within a month or two, Ted and Kevin were playing and singing gospel at local churches.  First, Hillsborough Christian Church in Farley and then Weston Methodist Church and many other local churches.  Among other gospel songs they played "I'll Fly Away" and "A Mansion on the Hill."  Interestingly, the Hillsborough Christian Church also let them play Merle Haggard's "Somewhere Between Your Heart and Mine."
Within a year or two, Ted and Kevin had recorded a "45."  On the "A" side was Hank Senior's "A Mansion on the Hill" with a "B" side of "Remember Me," written by Scottie Wiseman and famously recorded by Willie Nelson.
Ted and Kevin soon began performing at the Union Mill Opry outside of Edgerton, Missouri. Owned by Gini and Buddie Boswell, the Opry on their farm could seat 6oo people and provided camping for family listeners.  There, Ted opened for the likes of Dolly Parton, Ernest Tubbs, Johnny Rodriguez, Hank Thompson, the Wilburn Brothers and countless others.  Ted remembers opening for Ernest Tubbs, who'd taking a liking to the young Cline brothers, and Mr. Tubbs gave them a guided tour of his bus.
As did Ernest Tubbs, the Wilburn Brothers, Virgil "Doyle" and Thurman Theodore "Teddy" Wilburn, originally from Hardy, Arkansas, and discovered by Roy Acuff and brought by Roy to the Grand Ole Opry in 1940 as youngsters, took a liking to Ted and Kevin.  The Wilburn Brothers invited Ted and Kevin to Nashville to hear them record for Decca Records in the studio of and for legendary steel guitar player and producer, Pete Drake, in 1979.  This was a part of the iconic "The Stars of the Grand Ole Opry Series" Pete produced.
By now Ted had learned to play the mandolin and fiddle in addition to the guitar.  When he was 16 his mother bought him a mandolin with the admonition, "Ted, this is expensive, you make sure you play this."  Within a year he won the Iowa State Mandolin competition for adults, even though he was only 17 at the time and should have been entered in the junior division.
Ted recorded Merle Haggard's "Honky Tonk Night Time Man" in a small studio near Smithville, Missouri in 1979.
Also in 1979 or 1980, Ted was back in Nashville hoping to land a spot.  Through the Wilburn Brothers he had a number for Walter Bouillet.  Walter was a manager for Leroy Van Dyke ("The Auctioneer" and "Walk on By"), and, as Ted remembers it, a vice president of the Country Music Association.  Ted was staying in a cheap motel in a dicey neighborhood.  Walter called him and asked if they could meet. Ted explained where he was staying and Walter said, "Can you see the Waffle House down the road?"  Ted said yes and they agreed to meet there.
After discussion with Ted, Walter said, "There are a million musicians out here, it may be best if you go back to Weston."
Ted reluctantly went back to finish his senior year in high school and then got a call from Walter Bouillet.  Walter asked if he still wanted to play in Nashville and Ted said, "Hell yes."  Walter told him he needed to be in Indiana, Pennsylvania in 24 hours.  Ted said he could do that.
Ted showed up to meet Sherrill "Shaun" Nielsen, a legendary Gospel singer and player and, reportedly, Elvis Presley's favorite singer.  Shaun had played and sang with Elvis for years.  He sang the Italian part of "It's Now or Never" with Elvis.  Shaun's guitar player was quitting the band and Ted was there to try and replace him.
Shaun pulled out voluminous chord charts and explained these were the guitar parts Ted needed to learn in three days.  Shaun asked if Ted could read chord charts and young Ted asked, "What's a chord chart." On the second day Shaun checked to see how Ted was progressing.  Ted confessed he wasn't doing well.
Shaun asked what he could do on a fiddle and mandolin and asked if Ted could sing.  Ted played for Shaun who was impressed.  They arranged for Ted to sing and play that night as a "special guest."
Ted ended up playing and touring with Shaun for several years, doing shows at Billy Bob's in Fort Worth, Gilley's outside of Houston, Cowboy's Lounge outside of the Indianapolis Speedway and venues all over the country.  On one occasion they opened for legendary country artist George Jones.  Ted was talking backstage with George and Hank Cochran (who wrote classics including "I Fall to Pieces" and "Make the World Go Away").  Hank, who had been drinking, became enamored with Ted's cowboy hat.  Ted said he would give it to Hank if Ted could buy another one for Hank to sign.  George shouted, "Don't give that drunk bastard your hat!"  George nevertheless gave Ted $50 to buy another hat which Hank duly autographed.
By the mid-90s, Ted began writing his own music.  One of his first songs, "All the Lights are Off and No One is Home," was inspired when he came to his trailer in Clarksville, Tennessee only to learn his wife had run off with a co-worker from The Waffle House and had failed to pay for utilities, literally leaving Ted in the dark and the cold.
When writing, Ted tries to create music his artistic heroes might write or like.  These include Merle Haggard, George Jones, Marty Robbins and Ronnie Milsap.
Ted just finished recording four songs for his latest Nashville album, [name of album].  The album includes instant classics Ted wrote with his longtime co-writer, Gary Beard.  "Mexican Anna" is a track that indeed sounds as if Marty Robbins would perform it.  "That Was Me" is a semi-autobiographical song sure to become a fan favorite.
Recently divorced and, like all of us, suffering through the repercussions of the CoVid-19 pandemic, Ted is driven and excited to put his all into his music.  After playing and performing since he was 12, Ted says, "I'm having a better time in the music business than I ever have."  As soon as venues reopen, Ted plans "to hit the road and be a gypsy" playing his music.
Fans of real country music should be on the lookout for the chance to see him perform.
https://www.facebook.com/tedclinemusic/