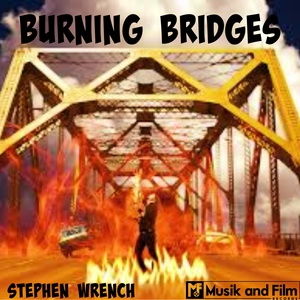 When the true colors of people you thought were nice and kind become the latest casualties of your Facebook friends list, the gloves just have to come off. As Stephen Wrench so powerfully and bluntly sings on his latest single, it's time to start "Burning Bridges."
Fast emerging as a recording artist after 45+ years performing with, managing, producing shows, operating Musik and Film and Musik Radio Promotions and creating hits for both legends and indie greats, Stephen Wrench likes to describe himself as a "gentle old soul" who's usually slow to anger. Yet in this unprecedented, watershed year of 2020 – with its COVID-19 lockdown, resulting record unemployment and renewed racial tensions and protests fueling an unprecedented political divide – there are just moments where something's gotta give. When the true colors of people you thought were nice and kind become the latest casualties of your Facebook friends list, the gloves just have to come off. As Wrench so powerfully and bluntly sings on his latest single, it's time to start "Burning Bridges."
The third single from his recently released full length album Life's a Sham, the hard-edged pop/Americana/country rocker wasn't originally inspired by the tensions foisted upon us during the last months, but his insightful, incisive lyrics perfectly apply to this unique moment. He sets the stage in the first verse with the disclaimer that "I get up every morning with a smile on my face . . .I get by, oh simply on grace," but circumstances change quickly: "I try to be nice, and wish I could laugh/But I ain't turning my head to someone talkin' trash." In the infectious chorus, he struggles with his decision to cut the offenders out of his life ("I can be patient/I can be kind") but admits, "I can be wicked/Lord knows I ain't blind." At the end of the chorus, he declares, "I don't like burning bridges, but I'm burning one today."
In the hard-hitting second verse, Wrench continues to build the tension between "tryin to be the best I can be" and "I'm sick and tired of being nice" to people who think "you're deaf, dumb and blind." By the third verse, the singer's feisty "calls it like he sees it" attitude leads to a full throttle exclamation: "We sit around and bitch and complain/Don't know what's the matter or who's to blame/People are such a**holes, oh ain't it a shame/But I ain't gonna take anymore, my friend…" 
"Based on the current political situation, fueled by the pandemic, the lockdown, restlessness, unemployment, for justice and the lies we hear from the top daily, everything's coming to a head and people's true personalities are emerging," Wrench says. "It's the perfect storm. With racial issues and all the hatred that is dividing the country, this seemed to be a good time to put the song out. It's not a pretty picture, but it captures our moment. A lot of people are tired of arguing and are actively burning bridges. I'm not just an observer here. I've eliminated a lot of folks from my life myself." 
Wrench paved the way for the June 12 release of Life's a Sham with two singles reflecting different aspects of his musical artistry and personality. The spirited, acoustic guitar and dobro driven title track ""Life's A Sham" was a perfect showcase for his soulful, rootsy vocals and an expression of some true-life philosophies that can only come with hard won wisdom and years of hopes and disappointments. Released a few weeks before Father's Day, the singer's acoustic song "Dad" is an inspiring, heartfelt tribute to his father, who gave him everything he needed to grow up to be a man.
Though Wrench has worked with some of the most groundbreaking artists on the planet and performed all over the world on stages in front of thousands and at small-town honky-tonks, the Jacksonville, FL based creative free agent proudly proclaims he's "performed and written with many infamous artists and bands but been a member of nothing." In addition to releasing the album of new material, Wrench is also eager to license gems from his treasure trove of songs to film and TV.
Along that often broken, but triumphant enough to keep going road, Wrench has played extensively with members of Lynyrd Skynyrd; co-written with the late Tom Petty, the late Rocco Marshall (Grand Funk Railroad), the late Molly Hatchett's founding member Banner Thomas, Tommy Tutone, Artimus Pyle (Lynyrd Skynyrd ) and Randall Hall (Lynyrd Skynyrd);  chose fatherhood over signing with Columbia Records; turned down a tour with Vince Gill and Dwight Yoakam; tour managed and performed with a "Voices of Classic Rock" road show featuring the lead singers of Santana, Toto, Loverboy and others; and managed Tommy Tutone, Missing Persons, Survivor and many others. He is also a featured interview subject in the Amazon Bestseller "Profile of a Hit Songwriter," by Lacie Carpenter and Thornton Cline.
Just so we don't leave anyone out – and because you asked, or even if you didn't – here's a complete list of those Wrench has been associated with in some capacity throughout his frolicsome and harrowing career in the shadows of greatness:  Lynyrd Skynyrd, Toto, Loverboy, Missing Persons, Bob Seger and The Silver Bullet Band, Eddie and the Cruisers, Dr. Hook, Atlanta Rhythm Section, Bad Company, Bonnie Raitt, Tommy Tutone, Survivor, Rossington Collins Band, Rick Springfield,  John Anderson, Starship, Darryl Worley, Dr. Hook, David Allen Coe, Molly Hatchet, Blackfoot, Ozzy Osbourne, Red Jumpsuit Apparatus, Ryan Starr,  The Flamingos, Sister Hazel, Blessid Union of Souls, Craig Campbell, Grand Funk Railroad, ABBA, Chad Brock, Michael Peterson, Daryl Worley, Lonestar, Mona Lisa Twins, Shenandoah, Collin Raye, and yes, the infamous "many more."
http://www.stephenwrench.com/