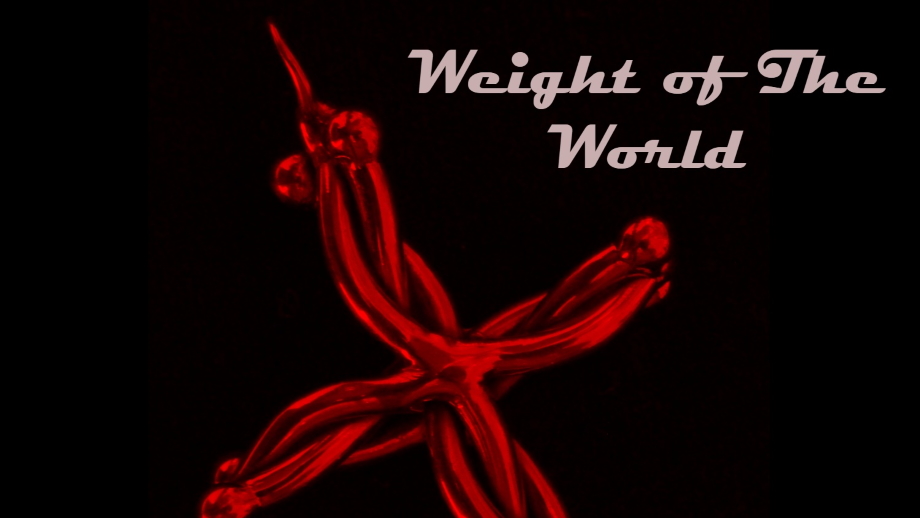 When people hear my song "Weight of the World" for the first time, they always wonder if I somehow knew 2020 would be a year like no other in our history. Was there any conscious thought predicting something like a horrific virus and how it would upend our lives?  As my first Techno track, it's very different in style and energy from my trademark hip-hop, rap, and rock/roll sound. I call it a "huge prayer and ask." The song is me calling to the Lord for divine assistance like the Psalmists of old, but with a Techy hip vibe and playful but incisive lyrical flow that makes it relatable to people in our time no matter what they believe about a higher power. The first elements came to me before the coronavirus hit, but as it developed, it made sense to include some specific references.
The song was produced in collaboration with the man I call my secret weapon, French-based producer, saxophonist and multi-instrumentalist Hellmut Wolf. While creating the exact throbbing dance groove I had in mind, he helped me arrange all the lyric segments I came up with so that it feels like I'm creating a stream of consciousness plea for help, anchored by the repetition of a phrase I speak to "Jesus Sir": "Can you spare a cure?" Hellmut helped me figure out a great starting point – words I first wrote in childhood that I later published in my book "Intergalactic Hans So Low": "The sun in the day/And the moon out at night/Are the lone eyes of God with us in his Sight."
Tapping deeper into my faith, I get down to the heart of the plea with lines like "Band you Angels, draw your swords/Something's gone viral/And it is not life/Let us love Jesus/Reward his strife" and "The souls in heaven/Are pulling for you/The Weight of the World/Rests on one Jew."  Then after voicing my deep concern for friends and family in Italy, France and Germany, I acknowledge the harsher realities that I "Lost my faith in the past/Really not so distant/Defeated, squashed by a crime insistent/Up upon Easter/We can't take no more" followed by a declaration of truth: "He said, I'll hang around to heal your core."
If there was any prescience here, it came from love. I felt like God was pushing me to do something. It was not the still, small voice we hear about. It was literally like Jesus was smacking me on the head to write something and emphasize him. The idea was that in any time and under any circumstances, we should rely on our faith. Some songs come together very quickly and you might think one that began with this kind of divine inspiration would too. But that's not how it happened.
Shortly before people stopped traveling, I was on a plane home from Germany, where I had visited my niece. A few people were already wearing masks. I saw the recent "Armstrong" documentary about the first moon landing. The words just hit me: "Neil Armstrong, Neil Young, Kneel for the Lord" and then a second version of that verse with another one of my favorites, Neil Diamond. Sometimes the inspiration just hits. On the plane. Driving in the car. When I'm going to sleep. I let my mind float on them. I just write the words and phrases down as they come and know it will eventually come together to create a new track.
What's funny is that the whole time, as all this was coming to me, I kept thinking I don't want to write a song specifically about the virus. But I had all these cool ideas popping into my head and they had to come out. Some said I shouldn't use the word virus, but Hellmut encouraged me to use it. I think the key to its success is the balance between the serious Christian metaphors like "I'll hang around to heal your core" – a double entendre about Him on the cross and in our lives today – and more whimsical things like a "Honeymooners" reference to "Alice, straight to the moon." Repeating at the end "We need you now" is really what we're feeling. God help us please. I couldn't be more gratified about the way "Weight of the World" has hugely caught on. 
Lately, I've been listening to a lot of my earlier songs from a different perspective – and it's interesting to see how some of the sentiments I expressed can apply directly to this challenging time. The World Indie chart has been particularly good to me, and I was excited to note that my recent single "Judge Not, Rap Yes" reached #3. The song is about not being judgmental. I rap: "Judge not, Rap yes/You know the one about the book and the cover/. . .You got some gumption making that assumption." I keep thinking about this in relation to my own attitudes towards people not wearing masks. I think it is a major safety issue, and it upsets me when people don't wear them in public for whatever reason – including some family members. But just because I'm angry about it doesn't give me the right to judge their hearts or their lives overall.
On a lighter note, I hope some of the folks who are dealing with the sting of COVID-19 related unemployment and itching to get back to work can find a little amusement and comfort in the irony of the words of my rock/R&B flavored tune "Unemployment Blues." Helmut gave it a fun brassy swing flavor, which I think is appropriate for lines like "Lordy, Lordy, Lordy, this pity party fits a king" and the playful core message that I repeat: "With beer, pizza, donuts, candy, unemployed and still feelin' randy."
I think following "Weight of the World" with a totally just for fun rock & roller like my brand new track "Checkered Future" is a music-history cool idea. Sometimes, in the face of some of the worst circumstances the world throws at us, we all need to remember that life has its good things, too. And one of those is music that's just about us letting go and having a good time. And yes, rock and roll big time. Maybe even laughing a lot too.
I went down the YouTube rabbit hole one day and saw Chubby Checker doing "The Twist." Talk about fun times! The words just came to me: "Chubby Checker/Chubby Thighs/Rock and Roll never dies." Using "Rock of Ages" as a reference, I also wrote "Rock of Sages, clap for me." I name check John Lennon, AC/DC and ELO, but my favorite part is when I mention Toto guitarist Steve Lukather, Neil Diamond and Bob Seger, which I rhyme with "My poor hormones left out and beleaguered." Helmut rocked this one with the complete help of guitarist Romain Duchein, and it's a great song for people to listen to who are tired of being confined and need to bust loose and have many moments of musical joy. It is one of my absolute favorites with the guitar.
http://www.dawggonedavis.com/