Written by

Stephanie Anderson, Instructor of English, Florida Atlantic University
For years, "sustainable" has been the buzzword in conversations about agriculture. If farmers and ranchers could slow or stop further damage to land and water, the thinking went, that was good enough. I thought that way too, until I started writing my new book, "One Size Fits None: A Farm Girl's Search for the Promise of Regenerative Agriculture[1]."
I grew up on a cattle ranch in western South Dakota and once worked as an agricultural journalist. For me, agriculture is more than a topic – it is who I am. When I began working on my book, I thought I would be writing about sustainability as a response to the environmental damage caused by conventional agriculture – farming that is industrial and heavily reliant on oil and agrochemicals[2], such as pesticides and fertilizers.
But through research and interviews with farmers and ranchers around the United States, I discovered that sustainability's "give back what you take" approach, which usually just maintains or marginally improves resources already degraded by generations of conventional agriculture, does not adequately address the biggest long-term challenge farmers face: climate change.
But there is an alternative. A method called regenerative agriculture[3] promises to create new resources, restoring them to preindustrial levels or better. This is good for farmers as well as the environment, since it lets them reduce their use of agrochemicals while making their land more productive.
What holds conventional farmers back
Modern American food production remains predominantly conventional. Growing up in a rural community of farmers and ranchers, I saw firsthand why.
As food markets globalized in the early 1900s, farmers began specializing in select commodity crops and animals to increase profits. But specialization made farms less resilient: If a key crop failed or prices tumbled, they had no other income source. Most farmers stopped growing their own food, which made them dependent on agribusiness retailers.
Under these conditions small farms consolidated into large ones as families went bankrupt – a trend that continues today[4]. At the same time, agribusiness companies began marketing new machines and agrochemicals. Farmers embraced these tools, seeking to stay in business, specialize further and increase production.
In the 1970s, the government's position became "Get big or get out[5]" under Earl Butz, who served as Secretary of Agriculture from 1971 to 1976. In the years since, critics like the nonprofit Food and Water Watch[6] have raised concerns that corporate representatives have dictated land grant university research[7] by obtaining leadership positions, funding agribusiness-friendly studies, and silencing scientists whose results conflict with industrial principles.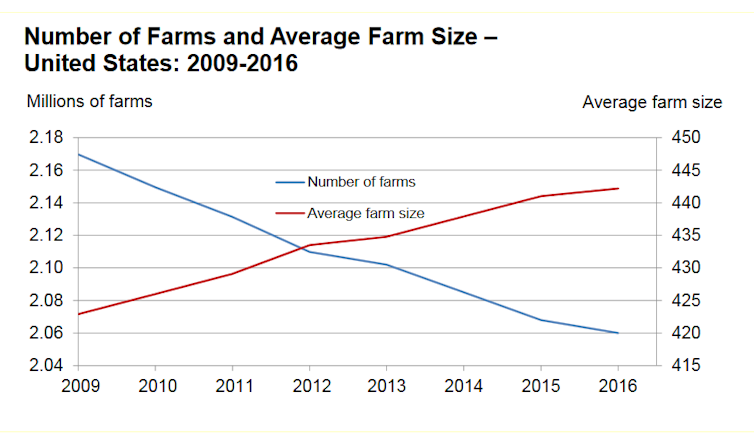 Authors: Stephanie Anderson, Instructor of English, Florida Atlantic University
Read more http://theconversation.com/regenerative-agriculture-can-make-farmers-stewards-of-the-land-again-110570