Written by

David Arditi, Associate Professor of Sociology, University of Texas at Arlington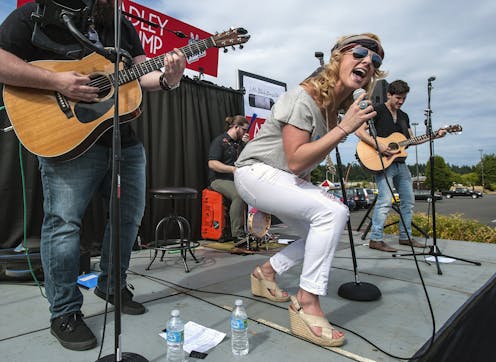 In December 2018, John Legend joined then-newly elected U.S. Rep. Alexandria Ocasio-Cortez[1] to criticize the exploitation of congressional interns on Capitol Hill, most of whom worked for no pay.
Legend's timing was ironic.
NBC's "The Voice" had just announced that Legend would join as a judge. He would go on to reportedly earn US$14 million[2] per season by his third year on the show. Meanwhile, all of the participants on "The Voice," save for the winner, earned $0 for their time, apart from a housing and food stipend – much like those congressional interns.
The fall 2023 TV lineup will be saturated with low-cost reality TV shows like "The Voice"; for networks, it's an end-around[3] to the ongoing TV writers[4] and actors[5] strikes.
Whether it's "The Voice," "House Hunters," "American Chopper" or "The Bachelorette," reality shows thrive thanks to a simple business model: They pay millions of dollars for big-name celebrities to serve as judges, coaches and hosts, while participants work for free or for paltry pay under the guise of chasing their dreams or gaining exposure.
These participants are the unpaid interns of the entertainment industry, even though it's their stories, personalities and talent that draw the viewers.
Dreams clash with reality
To conduct research for my book, "Getting Signed: Record Contracts, Musicians, and Power in Society[6]," I interviewed musicians around the country.
The book was about the exploitative nature of record contracts[7]. But during my research, I kept running into singers who had either auditioned for or participated in "The Voice."
On "The Voice," singers compete on teams headed by a celebrity coach. Following a blind audition and various elimination rounds, the live broadcasts[8] begin with four teams of five members apiece. These 20 contestants spend months working in Los Angeles and are provided with only their room and board[9]. Each week, at least one player is eliminated. At the end of each season, the winner receives $100,000 and a record contract.
While some viewers might see reality shows like "The Voice" as launching pads for music careers, many of the musicians I spoke with were disheartened by their experiences on the show.
Unlike "American Idol," where a number of winners, from Kelly Clarkson to Jordan Sparks, have made it big, no winners of "The Voice" have become stars. The closest person to "making it" from "The Voice" is the controversial[10] country singer Morgan Wallen, who was infamously dropped by his label and country radio[11] following the emergence of a video of him using a racial slur. And Wallen didn't even win "The Voice"; in fact, he barely made it past[12] the blind audition.
Former contestants repeatedly told me that the television exposure did little to help their careers.
Prior to joining the show, many of the musicians were trying to scratch out a living through touring or performing. They put their developing careers on pause to chase their dreams.
However, the show's contracts have stipulated[13] that contestants cannot perform, sell their name, image and likeness, or record new music while on "The Voice." (The Conversation reached out to NBC to see if this remains the case for the current season, but did not receive a comment.)
This leaves the 20 finalists with no means to sell their music, even as they spend up to eight months competing. When the show's losers return to performing, many of them have little new material to promote. By the time they drop a new single or album and announce a tour, some of them told me that they had lost a good portion of their following.
There is one group of people who receive meaningful exposure from these shows: the coaches and judges. Several singers, such as Gwen Stefani and Pharell Williams, have used "The Voice" to jolt their stagnating music careers. While earning millions as coaches and judges, these stars even use the show to promote their music[14] – something the contestants themselves are barred from doing.
Paying these contestants is feasible. If Legend earned $13 million instead of $14 million, that spare million dollars could be dispersed to half of the contestants at $100,000 apiece – an amount that's currently only reserved for the winner of the show. Cut the salaries of all four coaches by $1 million apiece, and it would free up enough money to pay all 20 contestants $200,000 each.
A gold mine for networks
"The Voice" is far from the only reality show to take advantage of the genre's low overhead costs.
Over the past two decades, shows featuring Americans looking to buy houses or remodel their homes have exploded in popularity[15]. HGTV cornered this market by creating popular shows such as "House Hunters[16]," "Flip or Flop[17]" and "Property Brothers[18]."
Viewers might not realize just how profitable these shows are.
Take "House Hunters." The show follows a prospective homebuyer as they tour three homes. Homebuyers featured on the show have noted that they earn only[19] $500 for their work[20], and the episodes take[21] three to five days and about 30 hours to film. The show's producers don't pay the realtors[22] to be on it.
The low pay for people on reality TV shows matches the low budget for these shows. A former participant wrote that episodes of "House Hunters" cost around $50,000[23] to film. Prime-time sitcoms, by comparison, have a $1.5 million to $3 million per episode budget[24].
Sidestepping the unions
That massive budget gap between reality TV and sitcoms is not simply due to an absence of star actors.
Many scripted television shows are based in Los Angeles, where camera crews, stunt doubles, costume artisans[25], makeup artists and hair stylists[26] are unionized. But shows like "House Hunters," which are filmed across the country, will recruit crews from right-to-work states[27]. These are states where employees cannot be compelled to join a union or pay union dues as a condition of employment. For these reasons, unions have far less power in these states than they do in places traditionally associated with film and entertainment, such as California and New York.
That's one reason why TV production[28] started moving to Atlanta[29] – what's been dubbed the "Hollywood of the South[30]" – where shows like "The Walking Dead" and "Stranger Things" have been filmed.
But in my research, I also learned that Knoxville, Tennessee, has become a reality TV mecca. Like Georgia, Tennessee is also a right-to-work state. In Knoxville, many working musicians join the city's low-paying entertainment apparatus[31] by taking gigs working on TV and film production crews in between shows and tours.
At a time when TV writers and actors are on strike, it is important to understand that the entertainment industry will try to exploit labor for profit whenever it can.
Reality TV is a way to undercut the leverage of striking workers[32], whether it's through their lack of unionized actors, or their use of nonunionized production crews.
David McNew/Getty Image
[33]
Contestants, casts and crew members are starting to catch on. Many reality TV participants have said that they feel like strike scabs[34], and Bethenny Frankel of "Real Housewives" is reportedly trying to organize[35] her fellow reality performers.
Preying off contestants who are desperate for exposure, reality TV might just be the next labor battle in the entertainment industry.
As John Legend[36] put it, "Unpaid internships make it so only kids with means and privilege get the valuable experience."
Reality TV does the same to aspiring actors, musicians and celebrities.
Authors: David Arditi, Associate Professor of Sociology, University of Texas at Arlington
Read more https://theconversation.com/reality-tv-show-contestants-are-more-like-unpaid-interns-than-hollywood-stars-213437