Written by

Lloyd Daniel Barba, Assistant Professor of Religion, Amherst College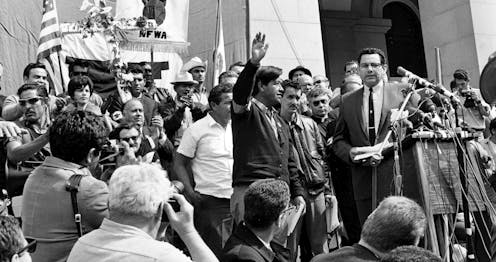 On March 31, 1966, labor rights pioneer Cesar Chavez[1] wasn't celebrating his birthday in any usual manner. Rather, he was 14 days into a 25-day pilgrimage in California[2] from Delano to Sacramento.
Leading a group of striking farm laborers and supporters, Chavez's plan was to build momentum and support for the workers' cause in a march that would conclude on the steps of the California State Capitol on Easter Sunday morning.
The date here is crucial. A foundational, but mostly forgotten, feature of the nearly 300-mile pilgrimage during Lent was that it was a deeply religious endeavor.
As a scholar of religion and the farmworkers movement[3], I believe Chavez's endeavor was not simply a "march" or "protest" – although workers' rights were, of course, central to the event. Rather, it was a "pilgrimage," and to overlook the religious dimensions is to fundamentally misunderstand what Chavez was trying to achieve.
Revolution with penance
Chavez, whose birthday is celebrated as a commemorative holiday[4] in the U.S. every March 31, remains the preeminent icon of civil and labor rights in the U.S.
Ted Streshinsky/Corbis via Getty Images
[5]
But contrasting with the view of labor rights as a purely secular endeavor, Chavez fused his understanding of Catholic social doctrine with principles of community organizing.
Accordingly, when it came to raising attention to the plight of striking grape harvesters[6] – denied the right to unionize in their fight for higher wages and better conditions – Chavez leaned on his religious beliefs.
From the outset, Chavez made clear the pious nature of the march, calling it a peregrinación – Spanish for "pilgrimage" – in the registration form he penned. Leaving no room for ambiguity, Chavez detailed: "This is a religious march" and added the headline banner of "Pilgrimage, Penance, Revolution" – framing designed to appeal to both the majority-Catholic farmworker faithful and more revolutionary members of the labor movement alike.
At first blush, penance seems a bit out of place in a world of protest. Even more ironically, Chavez held that penance[7] during the 1966 Lenten season march was required "for all the failings of Farm Workers" rather than for the exploitative growers that kept farmworkers uprooted and impoverished. But to Chavez, revolution could not happen without penance – that is, an undertaking to offer oneself blameless. As a collective public ritual, however, it also hoped to call the entire nation to penance.
The pilgrimage was an extension of a strike launched on Mexican Independence Day[8] in 1965 at Our Lady of Guadalupe Church in Delano. There, the Chavez-led National Farm Workers Association joined forces with the Filipino Agricultural Workers Organizing Committee.
Catholicism offered a ready-made bridge between Mexican and Filipino farmworkers. Seemingly "secular" labor issues could easily be framed through religious and moral language. Chavez's commitment to foregrounding religion[9] in his commitment to nonviolence took a page from Martin Luther King Jr.'s playbook.
A lady of labor
The pilgrimage to Sacramento began on March 17, 1966, under a banner[10] of Our Lady of Guadalupe. Guadalupe – a representation of the Virgin Mary[11], which, according to Catholic tradition, originated in 1531 – has long stood as Mexico's most ubiquitous symbol[12] of national and religious protest.
Along with the banner Our Lady of Guadalupe, a star of David and a cross were featured as prominent religious symbols in the pilgrimage. The larger meaning of the cross, when carried near the worn and wearied[13] Chavez hobbling along[14] with the help of a cane, was not at all lost on farmworkers. Later ballads captured this striking allusion to the Passion of Jesus by describing Chavez as a suffering prophet and messianic figure[15] who would sacrifice everything to bring about justice for farmworkers.
Despite the prominence of Catholic iconography, the pilgrimage remained an interfaith endeavor. Rabbis, Catholic priests and Protestant clergy stood as some of the farmworkers' staunchest supporters.
AP Photo
[16]
Music to lift souls and ease soles
Support to lift the spirit of the marchers came in a multitude of ways. For example, after a day of marching, El Teatro Campesino, a theater group established by playwright Luis Valdez, and enthusiastic supporters put on rallies filled with food and music. One historian recorded[17] that these raucous celebrations resembled religious revivals, much like the ones Chavez had noted in Pentecostal church services.
In his 1975 autobiography[18], Chavez described attending one such service in Madera, in the heart of California's Central Valley, in 1954. The young labor organizer recalled:
"In that little Madera church, I observed everything going on about me that could be useful in organizing. Although there were no more than twelve men and women, there was more spirit there than when I went to mass where there were two hundred."
Pentecostal music, unlike typical church music of the time, redeemed the fiesta of secular Mexican music[19] by sanctifying musical genres then thought to not be fit for religious services. Chavez would have immediately noticed a striking contrast between demonstrative Pentecostal worship and the staid music of Catholicism in the pre-Vatican II years.
'The base must be faith'
Almost a decade after the pilgrimage, Chavez mused[20]:
"Today I don't think I could base my will to struggle on cold economics or on some political doctrine. I don't think there would be enough to sustain me. For me, the base must be faith."
Faith sustained Chavez on his pilgrimage 57 years ago. On Easter Sunday 1966, Chavez ascended the steps of the California State Capitol upon the completion of the pilgrimage. By then, the aim of securing the farmworkers with their first-ever union contract with a grower had been completed.
Authors: Lloyd Daniel Barba, Assistant Professor of Religion, Amherst College
Read more https://theconversation.com/pilgrimage-and-revolution-how-cesar-chavez-married-faith-and-ideology-in-landmark-farmworkers-march-200043