Written by

Laurie Armstrong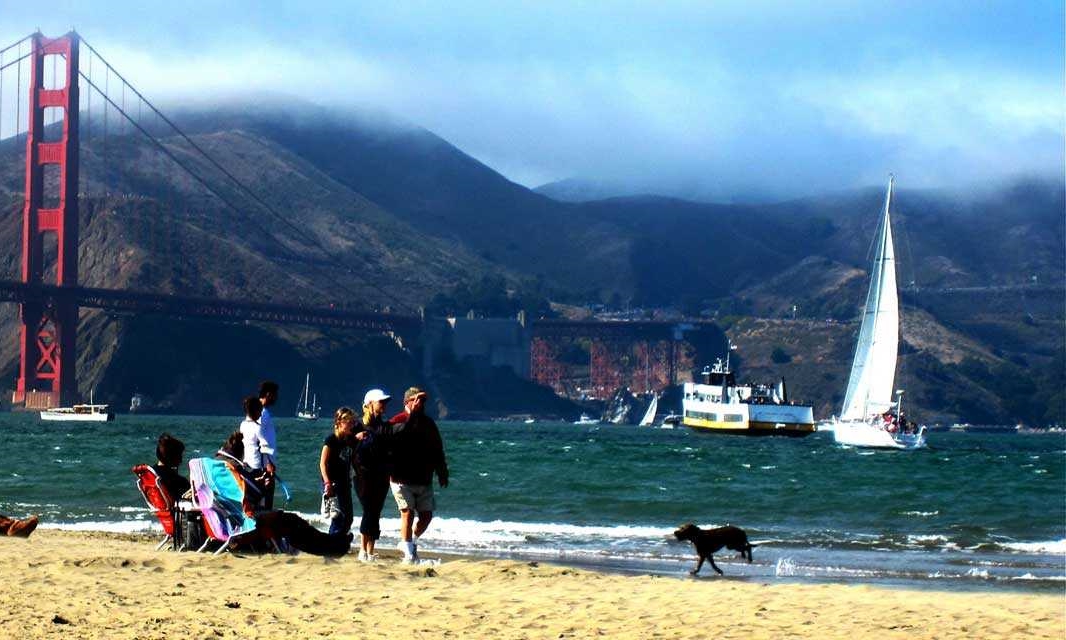 If you're seeing more people walking around San Francisco with their eyes looking at their phones, you're not imagining things. In fact, they're most likely looking for Pikachu. Yes, the same Pikachu from the 90's Pokemon franchise and it has taken over the world yet again in its newest game, Pokemon Go. A couple of big positives that people are already seeing from playing the game: exercise and exploration, which are making them fall in love with the city they're in all over again. In that spirit, we hope you leave your heart here while you hunt for the Pokemon, Pokestops and gyms in these San Francisco locations. Be sure to head to the Visitor Information Center this weekend to check in with our Pokexperts about the best ways to capture pokemon in San Francisco.
GOLDEN GATE PARK
Far and wide the best place to find and capture Pokemon is in San Francisco's largest park, Golden Gate Park. Here are some of the most popular locations within the park:
Beach and Park Chalet (1000 Great Hwy.)
Bordering Ocean Beach in between the windmills, sits the Beach and Park Chalet, a historic building with ocean views, serving housemade beer and American fare. Pokemon spotted: Magnemite and Shellder. Pokestops: 1.
Dutch Windmills
On the north and south sides of Golden Gate Park, sit two functioning windmills more than 100 years old. The north end windmill, completed in 1903, and the south end windmill, completed in 1908, are gyms so battle away.
Stow Lake (50 Stow Lake Dr.)
Stow Lake is a manmade lake in Golden Gate Park with a rich history that dates back to 1893. The lake has provided San Franciscans with an outdoor escape for more than a century, as they come to enjoy the scenery and allure of the city. Pokemon spotted: Dragonair.
California Academy of Sciences (55 Music Concourse Dr.)
Home to an aquarium, planetarium, natural history museum, and world-class research and education programs, the California Academy of Sciences is one of San Francisco's must-see destinations. From the splashing penguins to the wildflowers on the roof, the building is bursting with life. You can now add little pocket monsters to that list. Pokemon spotted: Eeevee and Pinsir.
PRESIDIO
Formerly a military base, the Presidio is now a protected part of the Golden Gate National Recreation Area that overlooks the Golden Gate Bridge and is festered with little Pokemon everywhere.
Spire by Andy Goldsworthy (Bay Area Ridge Trail)
Standing at 100 feet tall at its tapering peak and constructed from the trunks of 37 Monterey cypress trees, Spire by British-born artist, Andy Goldsworthy, celebrates the Presidio's landmark forest. Pokemon spotted: Venusaur and Bulbasaur.
Warming Hut (983 Marine Dr.)
Long a respite for photographers and Instagrammers escaping the bitter morning wind, the Warming Hut is true to its name. Not only is it a perfect place to escape the cold, but it's a great place for unobstructed views of the Golden Gate Bridge, to purchase a souvenir or two, and now Pokemon hunting. Pokemon spotted: Psyduck and Golduck.
BEACHES
San Francisco is not your typical year-round beach destination, but with the presence of Pokemon there, there will soon be a beach scene.
Ocean Beach
Sitting on the western border of San Francisco and adjacent to Golden Gate Park, Ocean Beach is ripe for capturing your favorite little monsters. Pokemon spotted: Electabuzz. Gyms: 3.
Baker Beach
Gaze in wonder towards the Bridge and Marin Headlands from outside the Golden Gate at mile-long Baker Beach, a public, partly nude beach that is ripe for a Pokemon breeding ground. Pokemon spotted: Bulbasaur. Pokemon gyms: 1.
Crissy Field
Crissy Field, a former U.S. Army airfield, is now home to several Pokemon in the area. Pokemon spotted: Tentacruel, Staryu, Omanyte, Bulbasaur.
PARKS
With more than 220 parks in San Francisco, there are plenty of places for the Pokemon to hide. Here are just a few places where they have been spotted.
Dolores Park (19th and Dolores Street)
The ubiquitous meeting place for that moment when the sun emerges from the fog and shines bright enough to warrant you taking your shirt off and having a picnic with your friends just got a little bit more crowded. Pokemon spotted: Nidoking, Paras, Clefairy, Ivysaur, Tauros, Lickitung.
Alamo Square Park (Hayes and Scott Street)
Home to the Painted Ladies (a.k.a. the "Full House" house), just got a little fuller. NOTE: Part of the park is currently closed for renovations. Do not hop the fence to capture anything. Gyms: 1. Pokestops: 1.
South Park (Bryant and Second Street)
Established in 1852, South Park was originally conceived as a London-style city garden, ringed with upscale residences. Much later, it became the inspiration place for many tech companies like Twitter and Instagram. Pokemon spotted: Vulpix. Pokestops: 2.
OTHER LANDMARKS
These places of interest are swarming with Pokemon and are the perfect place if you're in a time crunch or want to level up much faster.
The Ferry Building
Completed in 1898, the Ferry Building was the hub of all transit activity in the bay until the completion of the Bay Bridge and Golden Gate Bridge. These days, it's home to San Francisco's best-known farmers' market and a marketplace of local, sustainable vendors. Pokemon spotted: unknown number.
PIER 39
The waterfront bustling bayside PIER 39, a must-visit destination of Fisherman's Wharf, is the long time home of the sea lions and the newest home to little Pokemon monsters. Pokemon spotted: unknown number. Pokestops: numerous.
San Francisco Zoo & Gardens
The San Francisco Zoo, a 100-acre zoo located in the southwestern corner of San Francisco between Lake Merced and the Pacific Ocean, houses 1,000 endangered and rescued animals representing 250 species on view (plus a few little monsters). Pokemon spotted: unknown number.
THE BEST WAY TO COLLECT POKEMON
Public transportation is the answer. Muni is San Francisco's bus and metro system that run like a web throughout the city. Utilizing Muni to its fullest capabilities will save you time, money, and provide different points of views of the city. Not only is it safe (while you have your head down looking at your phone), but also you can collect a large number of monsters. Here are the best routes: 18, 22, 29 and 38.
Our last piece of advice surrounds playing the game. Make sure you're aware of your surroundings, do not trespass onto private property and above all, have fun exploring and discovering new parts of San Francisco.