Written by

Anahid Basmajian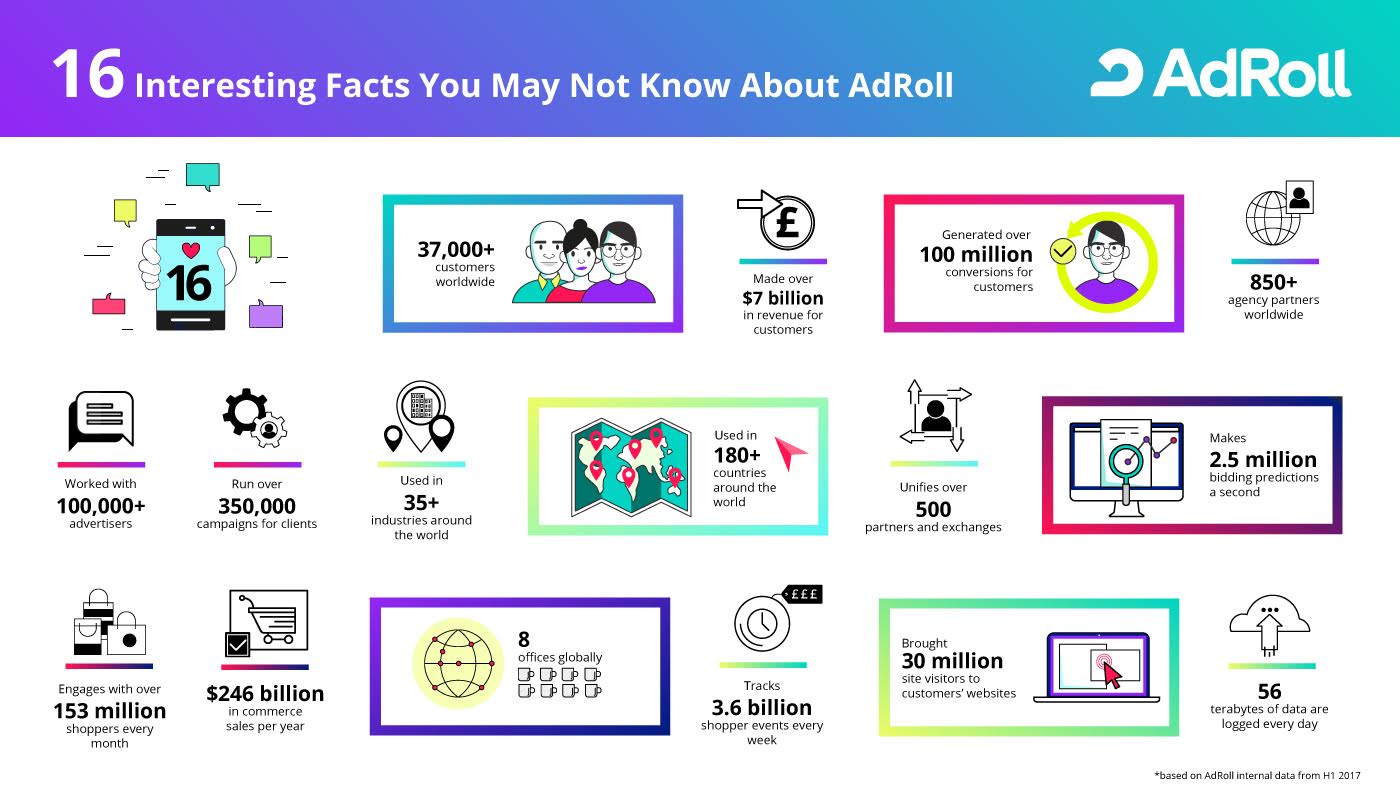 AdRoll, the growth platform for ambitious commerce businesses, has today announced an exciting new phase in the evolution of the AdRoll brand for its 37,000 customers worldwide. Recognising its unique position as market leader in EMEA, North America, Australia and Japan, AdRoll has declared a bold new company vision: to help ambitious companies grow revenue and challenge established brands.
This will be brought to life via a major brand refresh which will launch in EMEA, North America and APAC in February before rolling out to other markets. The news is set to be welcomed by AdRoll customers who have logged over $246 billion in sales each year with AdRoll. The company is clearly committed to improving their customers' user experience with the introduction of a new guided campaign setup for small businesses, improved cross-channel campaign reporting, an expanded native offering, and a first-of-its-kind self-serve attribution dashboard, all of which will make it easier for AdRoll customers to confidently grow their business via the platform.
"We're thrilled to unveil the next generation of AdRoll, complete with the first of many exciting new capabilities that empower ambitious businesses with the platform to challenge established brands and confidently grow their business," said Scott Gifis, the newly appointed AdRoll President. "Digital has never been more vital to the success of any business strategy, but it has also never been more complicated. Since 2007, AdRoll has been committed to making effective digital marketing, however complex, simple for marketers and business owners so they can attract, convert, and engage more customers. The next generation of solutions reinforces our mission is to help ambitious businesses grow their business no matter their resources, budget, or marketing expertise."
Marius Smyth, Vice President, AdRoll EMEA & APAC said: "Our new brand acknowledges what AdRoll has achieved to date while setting the tone for where we will go next. Today marks an evolution in our approach as we level the playing field for our customers in EMEA and APAC. Up until now, the odds have not been stacked in favour of ambitious commerce brands in these regions. Established brands in the space often have endless resources, budgets, and teams to win the market. That is all about to change. Ambitious commerce companies know that finding new audiences and getting them to purchase requires accurate customer data and powerful technology. That is where the new AdRoll platform will make it easy for these growing brands to win customers everywhere online and to deliver real impact from their marketing strategies in EMEA, APAC and beyond."
For interview requests with Scott Gifis or Marius Smyth or any press enquiries contact Anahid Basmajian, Head of Brand Marketing EMEA anahid@adroll.com.  
About AdRoll, a division of AdRoll Group


Since 2007, AdRoll has been on a mission to help businesses compete online and grow revenue. Ambitious commerce brands use the AdRoll Growth Platform to make their display, social, and email advertising work together to accelerate business growth. Powered by industry-leading automation and personalisation, brands are better able to structure, measure, and sync their marketing efforts. Over 37,000 customers worldwide have generated £5 billion in revenue by partnering with us.
AdRoll is headquartered in San Francisco, with offices in New York, Dublin, Sydney, London, Tokyo, Chicago, and Salt Lake City. Learn more at adroll.com.