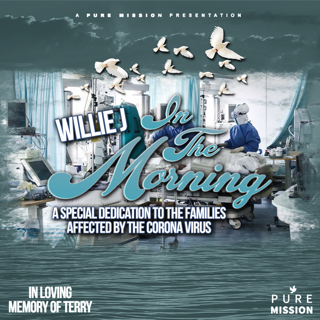 "In the Morning"
To borrow from a well-known spiritual cliché, sometimes the musical muse works in mysterious ways. When Willie J joined forces in 2019 with Atlanta producer Cool Kid Diddy and his late friend, vocalist Terry Stanford, to record his soulful and inspirational hip-hop anthem "In the Morning," the St. Louis singer, entertainer and producer was trying to encourage himself as he processed a series of personal losses. His intuition, backed by the support his production team, told him not to drop the song immediately, but wait for the right season when the world would need to hear it most. Willie couldn't have known it at the time, but that moment is now, in the midst of the devastating COVID-19 pandemic.
The release of "In the Morning" on Pure Mission Entertainment – the label he partners on with Aaron Emig - follows on the heels of the global success Willie had with another easy grooving expression of compassion, "We Love You Puerto Rico," a powerful – a "we got your back" shout out to those still suffering from the aftermath of Hurricane Maria, which reached #2 on the World Indie Music Charts Top 100.
Proceeds from "In the Morning" will be donated to the United Way of Greater St. Louis, whose COVID-19 Response will support organizations that are providing resources right now to community members impacted by this crisis. For more information:
https://helpingpeople.org/covid-19/
Building off an edgy, soul-seductive foundation featuring the familiar infectious opening chords of Journey's "Don't Stop Believin'," "In the Morning" features Willie singing the infectious chorus between his freestyle rap verses that uplift the spirit via a hopeful stream of consciousness.  Every ounce of courage and optimism riffs off the irrepressible hook: "Through the storm/Through the rain/Through the hurt/Through the pain/You can make it/I can make it/We gon' make it/In the morning, it's alright."
Incredibly, in line with his trademark process of just letting words flow freely through him, Willie had not written down any lyrics when he entered the studio, yet found the following words pouring out as the vibe took hold: "Don't you worry/Don't you fret/Cause its not really over yet/Keep on holding to the end/cause only the strong survive and win/And when they try to hold you back, don't let up/And when they try to knock you down, just get up. . .Don't you dare throw in the towel/Even through the trouble gotta smile/Gotta keep a smile for the extra mile…." Later, Willie offers more empowerment for the journey when he raps: "Even though it's looking dark today/There will truly be a brighter day . . .Keep on turning that pain into gain/Sunshine filled with rain. . .When they try to keep you from winning, tell them all we do is win…"
"My favorite song is 'Don't Stop Believin', so when my producer Cool Kid Diddy let me hear that track he created from it, I felt a rush of emotions that came out spontaneously, and I felt prompted to write to it," says Willie. "It was befitting for what I was going though at the time, losing an auntie, a close friend, thinking about my mom who passed in 2006 and dealing with my recent divorce. It started with all those personal losses, but as the track took shape, it became a much broader concept, like an opportunity to share medicine with the world during difficult moments. I started thinking about my friends going through things and then about people in general struggling with personal challenges. When the session was taking shape, everyone in the studio felt like this song could change lives someday – at the right time. Because everyone needs the hope that comes in the morning after the terrible dark nights."
Prior to "We Love You Puerto Rico," Willie J established himself as a powerful presence on the indie music scene with a handful of other hit singles. His 2018 track "Moving Up" lived up to its title, climbing three global charts, two of which were spotlighted in the Top-20 DRT, peaking at #14. "Level Up" reached #7 on the DRT Independent chart; and "Sunshine with the Rain," featuring Arthur "Flash" Johnson, rose to #3 twice on the Euro Indie Top 200 chart. As with "We Love You Puerto Rico," Willie J wrote "Sunshine with the Rain" in the hopes of empowering people and changing lives.
"From my experience, the only people who can truly inspire others to hope are those who have experienced hopelessness in their lives," Willie says. "I know that if a song uplifts me and my team, it's medicine that can work for someone else. Our company slogan at Pure Mission Entertainment is to empower people and change lives. I want to use that medicine for good in the world and songs are the perfect vehicle to inspire great hope and transformation."