Written by

Laurie McConnell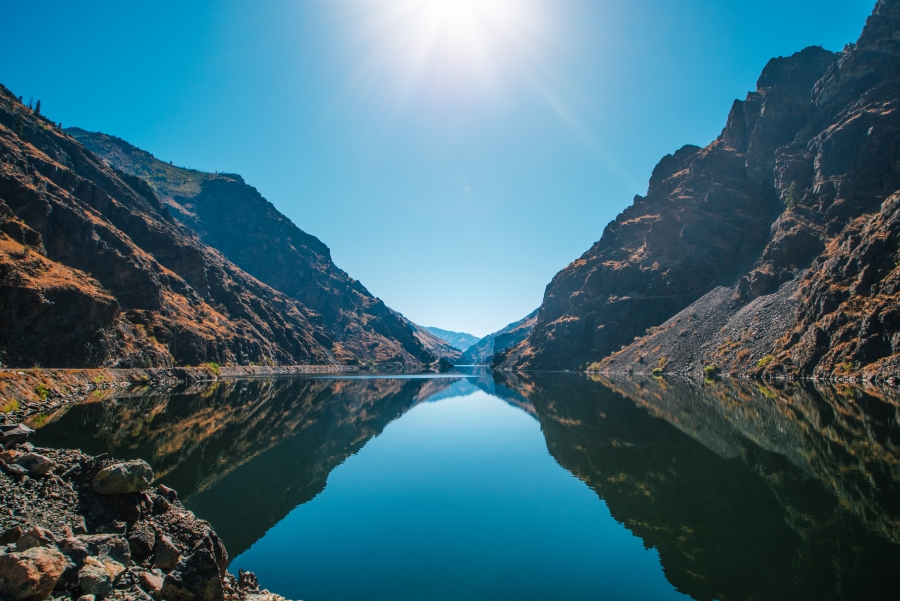 Summer is a great time to be a "local" tourist in Idaho and enjoy some of the most beautiful places in the lower 48. We're extremely lucky to call Idaho "home" because we have more natural attractions, outdoor recreation opportunities, and scenic landscapes than most states have combined. So why not plan a trip this summer and see some of Idaho's most breathtaking countryside on our famous scenic byways? Here's a list of five must-see destinations to see this summer.
1. Lava Hot Springs Geothermal waters pump into Lava's infamous pools – temperatures range between 102°F -112°F, making Lava Hot Springs the perfect destination for an evening soak.
Anybody who has ventured to a hot springs in the Northwest can surely attest, the smell of sulfur isn't exactly inviting, that's why soaking in Lava's hot springs is that much more enjoyable. Lava Hot Springs also features an Olympic Swimming Complex with winding slides, indoor and outdoor pools, six-story high-speed slides, and a kids' cove that is not to be missed.
Let's just say, Lava Hot Springs knows how to have a good time.
2. Mesa Falls Two amazing waterfalls make up Mesa Falls, and each one is worth the stop. Upper Mesa Falls makes its presence known along the Snake River, standing as tall as a 10-story building, and viewable via an observation deck.
Lower Mesa Falls can be found roughly one mile south and is majestic in its own regard. Both waterfalls run over what is left of an ancient volcanic super-eruption. Pretty epic. What makes these waterfalls even more glorious to behold is the fact that they are the last prominent waterfalls on the Snake River that are unaffected by man-made influences.
To see these falls up close and personal, walk along the Mesa Nature Trail. The trail begins at the upper parking lot of the Mesa Falls Visitor Center then meanders through a quiet forest and ends at an overlook of Lower Mesa Falls.
3. Hells Canyon Scenic Byway The Hells Canyon Scenic Byway is likely one of the most breathtaking destinations you'll ever visit. View towering canyon walls as you wind alongside the massive rift that separates the states of Idaho and Oregon. You will be amazed at the size of the massive green and black basalt walls rising above the Snake River below.
Get an up close and personal view of wildlife you've never seen before, and be sure to stop along the way and visit the Hells Canyon National Recreation Area, where guided rafting and jet boat trips on the Snake River are always in high demand.
To find Idaho jet boating and rafting outfitters and guides visit the Idaho Outfitters and Guides Association here.
4. Redfish Lake Redfish Lake is the ideal place to visit during the warm summer months. Make memories with your kids that will last a lifetime at this flawless outdoor playground.
Redfish Lake sits between the Sawtooth Mountains and the Salmon River and has views that will make you make you feel like you're vacationing inside a work of art. The Redfish Lake Lodge is conveniently nestled up against the shore, and next to it, a general store, where you can find maps for your adventures and snacks for the kids.
The lodge also offers rentals including bikes, motorboats, kayaks, canoes, stand up paddleboards, paddle boats, and even pontoon boats. 
Take a hike, go for a swim, learn how to stand up paddleboard, take the kids out on a paddle boat to explore the shoreline or just lay on the beach and soak up the sun. Whatever you choose, you can't go wrong.
5. Thousand Springs Thousand Springs State Park may be one of the best-kept secrets in the entire state of Idaho. This massive park has many places to explore with the kids: Kelton Trail, Earl M. Hardy Box Canyon Springs Nature Preserve, Malad Gorge, Billingsley Creek, Crystal Springs, Ritter Island, and Niagara Springs.
Get an up close view of the springs as thousands upon thousands of gallons of water gush over the volcanic cliff faces below. This natural phenomenon flows from below the earth's surface from an enormous underground aquifer, running below the Snake River Plain all the way from the Pioneer Mountains of central Idaho.
For more exploration ideas and things to do in Idaho, check out VisitIdaho.org and start planning your next adventure. To view this Trip Guide and others like it, click here.

Pic Hells Canyon