Written by Maevadi Rosenfeldt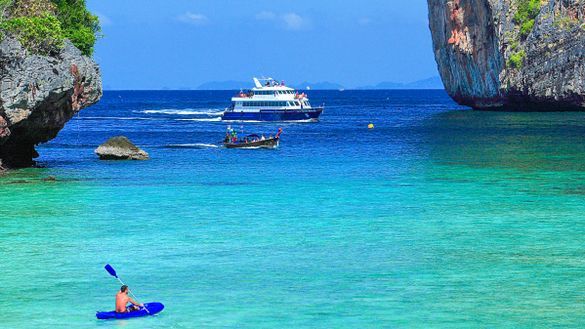 Despite recent reports that Southern Thailand's famous Maya Beach will close for three months this year, in fact no decision to this effect has been made by Thai authorities.
Phi Phi National Park Office confirmed yesterday to the Tourism Authority of Thailand (TAT) that the park will remain open.
As Thailand grows in popularity with international visitors, the Department of National Parks, Wildlife and Plant Conservation is constantly looking at ways to improve management of the Kingdom's natural resources.
Measures have been made in some areas to limit the number of boats permitted to visit popular islands such as Koh Phi Phi, and the Similan and Surin Islands, and it is something that continues to be monitored.
Discussions were held mid-2017 regarding the management of Koh Phi Phi Lei, and it is understood the option to close the beach to tourists was discussed; however no decision to that effect has been made.
The Thai Government is committed to promoting sustainable tourism development, with a focus on quality over quantity.
According to TAT Oceania Director, Rujiras Chatchalermkit; "With a continued marketing focus on immersive experiences such as wellness retreats, culinary experiences, eco-tourism and agro-tourism, TAT aims to move away from the nation's previous appeal as a budget destination for young full moon party-goers, to now focussing on the increasing global demand for high-end quality tourism product. This focus on quality tourism has seen a move from simply counting visitor numbers to measuring tourism revenue."
About the Tourism Authority of Thailand
Tourism Authority of Thailand (TAT) is a Thai National Tourist Office responsible for promoting Thailand as a premier tourist destination.
The Sydney office is responsible for the regional area of Australia, New Zealand and South Pacific. We provide information and support to the public, as well as media, wholesalers, airlines, travel agents and other partners.
Tourism Authority of Thailand
Suite 20.02, Level 20, 56 Pitt Street, Sydney, NSW 2000, Australia
Tel. (612) 9247 7549
Website: www.amazingthailand.com.au
Facebook: www.facebook.com/HugThailand
Instagram: @HugThailand
Twitter: @HugThailand