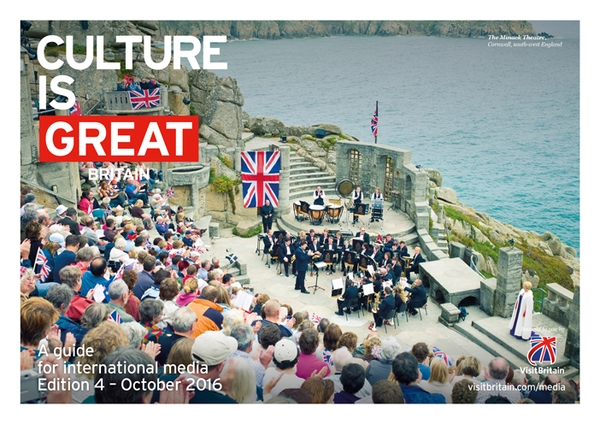 In this month's Britain Calling, discover the plethora of events, anniversaries, shows and attractions that 2017 has to offer, in our What's new in Britain 2017. Celebrate the 20th anniversary of the harry book series, or meander around the RHS Flower show in Chatsworth. We have an exciting year ahead!

Christmas is speedily approaching and our Family Fun at Christmas story will help you explore the festive fun around Britain. Join in the festivities at Edinburgh's Christmas festivals or meet Dancer, Prancer, Comet and Blitzen at Staffordshire's Reindeer park.

In time for the new year, comes our latest Accommodation Update, enjoy 2017 in style with new and upcoming openings, newly refurbished and expansions. Pamper yourself in the abundance of new spas, such as the luxury Langdale Spa in the Lake District.

Indulge in all things food! Treat yourself to the TASTE of Britain, include your little chefs at Le Petit Chef with a cooking masterclass for young guests. Try trendy street food with a side order of Culture at the Newly opened Flat Iron Square; Douro's Portuguese tapas, innovative Savage Salads, with a blend of music, shopping, entertainment and more.

It's time to celebrate all things Cultural. Our latest edition of the Culture is Great Guide immerses you into the best #OMGB experiences, in all of Britain's hotspots. Step into the arts outside and in, admire the sheer size of The Kelpes or gaze at the exciting modern art spaces at the Saatchi Gallery. Spoil yourself with a trip to the theatre where a world of mystery awaits you, titles such as Finding Neverland, Harry Potter and the Cursed Child and many more will have you awe struck.

Remember to share your Amazing Moments in Britain with us too using #OMGB.
Culture is GREAT - a guide for international media
Welcome to the fourth edition of VisitBritain's Culture is GREAT guide for international media, packed with lots of new story ideas and information designed to inspire you to explore and write about Britain's rich culture and cultural offerings.

Highlights include a guide to 'Being British,' which explores how visitors can experience culture in Britain and fit in with locals, as well as a selection of experiences that can be enjoyed by the whole family, from grandparents to children.

Read more here.
What's new in Britain in 2017
2017 is packed with exciting events, anniversaries, new attractions and key dates, making Britain a top destination to visit next year! From the 70th anniversary of Edinburgh Festivals and The Natural History Museum's new Blue Whale display to Hull's City of Culture 2017 and hot new hotel openings. For media, this means lots of fantastic story ideas to keep you coming back to Britain.
Find out more here.
New Accommodation Update out now
Take a look at the latest quarterly Accommodation Update.
Highlights in this issue include Shoreditch's new Courthouse Hotel - complete with indoor swimming pool, subterranean bowling alley and cinema - and Dakota Deluxe, Glasgow's stylish new boutique hotel. You can now even stay in an old Routemaster bus complete with hot tub in County Durham, or indulge in the luxury Langdale Spa in the Lake District.
To find out the newest openings and refurbishments across Britain, click here.
New Taste newsletter out now
This edition of TASTE brings you VisitBritain's latest round-up of new restaurant openings and foodie news from across the country, including London's love affair with Latino cuisine, dog-friendly ice cream in Wales, and a new food festival in the Scottish Highlands.
To get your taste buds tingling and to read more, click here.
Family Fun at Christmas
Christmas lights, bustling markets and winter illuminations - Britain is full of festive fun for the whole family. Grab your little elves, don your Santa hat, and discover a host of Christmas crackers.
To found out more about Festive Family Fun in Britain, click here

Adventure Travel