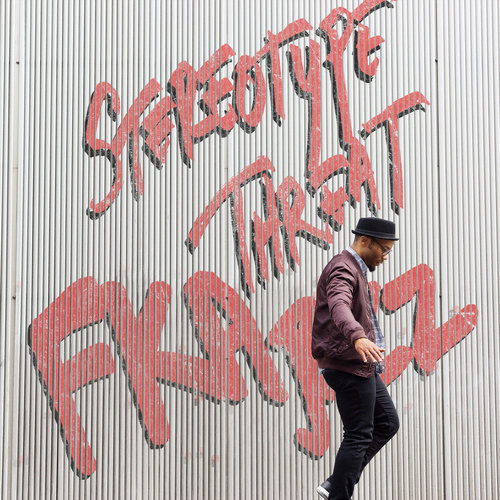 With the release of his new album Stereotype Threat under the bold, fresh artistic identity FKAjazz (formerly known as…), NYC based saxophonist Samir Zarif lays the dynamic groundwork for the possibilities of what jazz is for his generation and provides a vision for what the cherished American art form can be moving forward. With a freewheeling energy driven by the still simmering melting pot of influences that drive his musical passion – traditional jazz, R&B and hip-hop – the full length collection is the culmination of a multi-faceted journey that transcends easy definitions. It's always evolving with a sense of grooving and improvisational wonder and discovery.
Stylistically, Stereotype Threat is several worlds and hundreds of ultra-cool beats away from the multi-talented composer/musician's 2010 debut Starting Point, which was released under his real name. That album featured musical snapshots he had been workshopping on the bandstand with The Story, the progressive, free jazz band with whom he had been touring. Performed with members of that group, the collection mostly featured odd metered material, but the final song "Keep the Faith" had an electronica vibe, a rock-flavored backbeat and Zarif on vocals. He developed this side of his artistry further when he joined forces with producer Brian Lindgren in 2011, and formed the electronic music production duo Pax Humana – which released the full length albums A Matter of Heart (2012) and A New Frontier (2014). His desire to expand to creative endeavors beyond jazz also led to his being commissioned to score a collection of short films by trans-media artist Donna Cameron, which were later presented and distributed by The Museum of Modern Art (MOMA).


One of FKAjazz's contemporary inspirations is Grammy winning pianist and producer Robert Glasper, a fellow Houston native who attended the High School for Performing and Visual Arts (HSPVA) some years before the saxophonist. He and Glasper are blazing similar paths while remaining distinctive in their individuality and style.
"I've always looked to him as an older brother, because while the music he makes is different in a lot of ways from what I'm doing, in essence we're coming from the same place, creating music that draws from jazz but is more the culmination of Black American music, a mix of old and new with a major hip-hop element. Because I grew up listening to music like A Tribe Called Quest, The Roots and Jazzy Jeff, that music is as much a part of my life as jazz. The goal is to take music beyond hip-hop, beyond jazz and create a whole new vibe from all of these influences."
This desire to transcend easy genre boxes and categorizations inspired FKAjazz to create the perfect album moniker Stereotype Threat, whose opening track of the same name creates a unique generational crosscurrent by pairing the artist's powerful sax melody with the spoken words of longtime James Brown bassist/vocalist Fred Thomas. "The phrase 'Stereotype Threat' literally means the fear of being reduced to a negative stereotype," Zarif says, "and that fear can become a self-fulfilling prophecy if you don't disrupt that way of thinking. It was the perfect title because of my many influences. As I was developing this sound, my worst fear was being labeled as 'the next saxophonist that plays like every other saxophonist.' It was something I had to overcome internally in order to finally understand how to be true to myself."
"I'm always veering left to some degree," he adds, "and I wanted to make sure that the tracking of the album was thoughtful and told a story from track to track even in its diversity. I wanted to tell a story from start to finish, while at the same time have each track encapsulate an aspect of my life. There's the fear of being stereotyped and the need to overcome that, the fear of being in love again and the urgency to overcome that, the fear of not knowing my direction in life, among other themes. The overall story comes from the discovery of who I am, the journey of being able to take away all the layers of my experience and get to the core of myself as an artist."
While providing a powerhouse platform for FKAjazz's tenor sax, Stereotype Threat is also a showcase for his skills as a composer, producer and mixer. After creating the foundation of the tracks, he pieced together incredible contributions from his high level cohorts in NYC's jazz scene, including guitarist Marcus Machado, electric bassist Lez Lemon, guitarist Julian Litwack, drummer Justin Swiney and keyboardist Noah MacNeil. Also featured is the high impact rap lyricism of JSWISS on "No Way To Go" and "Storytime Interlude."
Highlights include the "Hard Times" intro that leads into "Brighter Days," a tandem reflecting the importance of a measured optimism that understands that obstacles are opportunities to grow and learn from; "Angel Cake," which began as a remake of D'Angelo's "Devil's Pie" before FKAjazz flipped guitarist Marcus Machado's guitar riffs to create a whole new celestial treasure; and "Wander as I Wonder," whose title riffs on Langston Hughes' autobiography "I Wonder as I Wander" and which addresses the challenges of deep relationships – and the importance of having a commitment that helps overcome them. The title of the moody and deeply grooving "F.A.F." came from an Instagram fan's spirited, off color declaration that the track was "Fly as F***."
A musical wunderkind from the get-go, Zarif was raised by a mother who was an accomplished piano and vocal teacher and widow to an alto saxophonist that played in the Duke Ellington Band in the 70s. His Philly born father spent his formative years in Brooklyn as an accountant for both Malcolm X and the original Nathan's Hot Dogs in Coney Island. Zarif played violin in elementary school, violin and sax in middle school, and was the principal saxophonist at HSPVA and Willowridge High school. He later moved to New Orleans to study jazz performance and composition at the University of New Orleans with trumpeter and film composer Terence Blanchard. While in New Orleans, he performed with Jason Marsalis, Aaron Neville, Nicholas Payton, and Jill Scott. After graduating from UNO, he moved to New York to attend the Manhattan School of Music as a grad student of Jazz Studies and Saxophone Performance.
Immersing himself into the NYC music scene, Zarif became a renowned recording and touring saxophonist for many notable artists and bands, including the Grammy Nominated Miguel Zenon's Identities Big Band, The Story, Soulful Symphony, Chrisette Michele and Hans Glawischnig Jahira Trio. He has performed at world-renowned venues, halls and festivals such as Carnegie Hall (NYC), Blue Note (NYC), North Sea Jazz Fest (Rotterdam), Newport Jazz Fest (Newport, RI) , and Bimhuis (Amsterdam).
Zarif's emergence as FKAjazz and his unique perspective on the distinctly American art form has prompted him to reflect on the meaning of jazz, its development over the last century, and its influence on other styles of music. "Before jazz, there wasn't such a thing as American music really," he says. "There was nothing that truly defined our culture as Americans as clear and true to its spirit as jazz. It was the first complete melting pot of music that shaped who we are as people, what we represent and the possibilities unique to our country. Everything else that followed, from rock & roll to hip hop, are the children and grandchildren of jazz music."
"Likewise," Zarif adds, "jazz is traditionally an art form rooted in the concept of creating something new on top of the old, of rebirth or reimagining. We saw with John Coltrane's 'My Favorite Things' or Miles Davis' 'Someday My Prince Will Come' a clear understanding of what the jazz tradition is. And we see it today with hip hop's approach to sampling and remixing. Being a jazz musician for a large portion of my life, then periodically shifting to the EDM and hip-hop scene as a producer and DJ allowed me to see not only how jazz has influenced popular music today, but also how much pop music today has influenced and altered my trajectory as an artist."