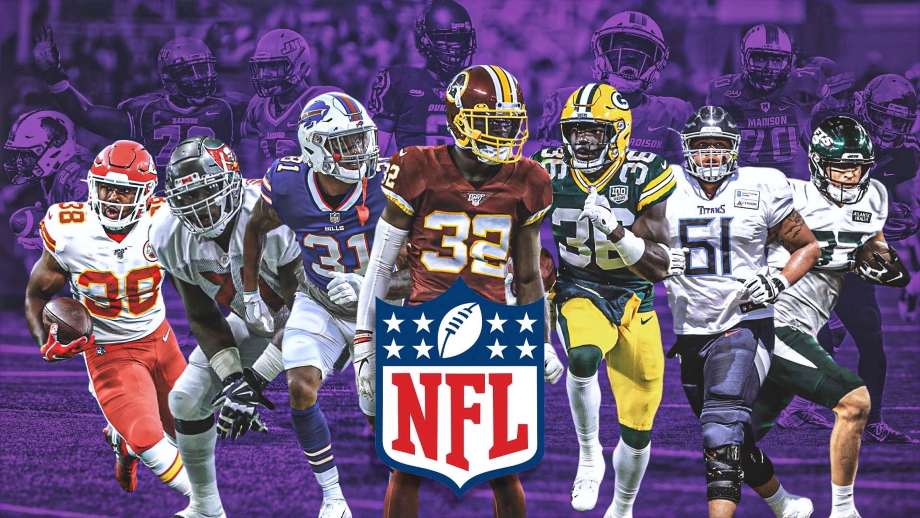 Revenue Stream for Sports' Post-COVID-19 Recovery Strategies
New Rochelle, NY, June 1, 2020— Twenty-four states have now legalized sports betting, with more states considering legalization later in 2020. Already, one in six (14%) U.S. adults 21+, especially young, highly-educated affluent men, engage in sports betting, a number that could increase to 34% with another 20% of U.S. adults considering entering the sports betting market, according to The State of Sports Betting: New Frontiers, New Technology, and New Audiences report, a joint study from leading consumer insights and strategy firms
Heart+Mind Strategies
and
Horowitz Research
on current and potential sports bettors.
"Data from the study underscores the impact that legal online sportsbooks have on driving engagement and frequency of betting. Virtually all sports bettors have used an online sportsbook in the past year, and about half use an online sportsbook at least monthly," said Adriana Waterston, senior vice president, Insights and Strategy, for Horowitz Research.
Post COVID-19 Strategy
As the sports industry begins to strategize recovery post-COVID-19, sports betting could play a critical role. According to the study, betting makes sports more enjoyable, with 77% of sports bettors saying they are "more into sports now that they can bet on them." It could also help offset the impact of lost ticket sales revenue as stadia consider limiting seating capacity for social distancing: 68% of sports bettors say they "would rather spend money on sports betting than tickets to a game." The study also highlights opportunities for other industries that were profoundly impacted by COVID-19, including: casinos, tourism, payments, and media.
"More than ever, the sports industry and its stakeholders need to evaluate the methods by which they enable fans not only to consume but be active participants in sports," said Mike Dabadie, CEO at Heart+Mind Strategies. "In a world impacted by COVID-19, fans are interested in connecting with the excitement of sport in new ways, and sports betting is one of the biggest opportunities. Our study explores this opportunity in depth from a variety of stakeholder angles."
Betters Are Passionate Fans
Sports bettors are, almost by definition, heavy consumers of sports. Sports bettors are typically passionate fans of a wide variety of sports. However, the NFL, NBA, MLB, NCAA College Football, and NCAA College Basketball currently attract the lion's share of sports bets. The study reveals untapped opportunities for other sports, especially soccer, the NHL, MMA, and the emerging eSports industry, to get bigger pieces of sports betting action.
"The results of this study underscore that we are just at the tip of the iceberg in terms of the amount of excitement, energy and, most importantly, revenue sports betting will generate moving forward," added Adriana Waterston, Horowitz Research. "We were particularly excited to see that some of the biggest opportunities lie in engaging young, multicultural audiences in sports betting."
The State of Sports Betting: New Frontiers, New Technology, and New Audiences was released to charter clients in May and is now available for purchase. A clients-only webinar will be presented on July 1. The webinar will be presented by Heart+Mind's CEO, Mike Dabadie, and Horowitz's SVP, Insights and Strategy, Adriana Waterston.
Sizing and Profiling the Sports Betting Opportunity
Online Sports Betting: Driving Segment Growth
Betting Opportunities by Sport/League
Casino Betting: Behaviors and Attitudes
Sports Bettors and the Media Industry, including:
Subscription and Usage Profiles
Sources Used for Sports Betting Information
The Impact of Sports Betting on Media Consumption and Fan Engagement
Interest in Sports Betting Features and Interactivity for Cable TV and Online Streaming
Opportunities for the Travel Industry
Included with the report are Hispanic, Black, and Asian supplements, providing detailed insights into these key opportunity markets.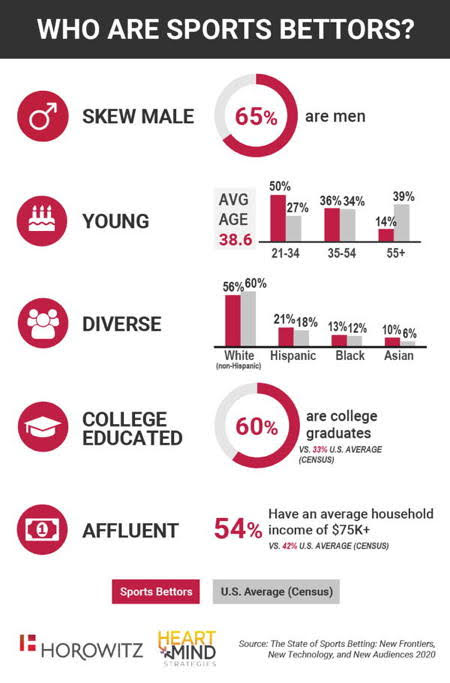 Methodology
1,000 online surveys among a nationally representative sample of adults 21+ who are current or potential (i.e., would consider) sports bettors. Multicultural oversamples were conducted for the multicultural supplements. The multicultural samples include 532 Hispanics (survey offered in English and Spanish), 400 Black, and 363 Asians (English-language only).
For more information and to purchase the study:
About Heart+Mind Strategies
Heart+Mind Strategies is a research-led consulting firm that uncovers how people think, feel and make decisions, and uses that to help clients apply these insights to achieve their specific goals. Our scientific approach to understanding how individual and societal values influence decision-making is why many leading global brands and organizations work with us. For more information, visit
www.heartandmindstrategies.com
About Horowitz Research
Horowitz Research is a leading provider of consumer insights and market research with a mission for delivering insights that inspire change. Offering a full suite of primary quantitative and qualitative research, strategic consulting, and syndicated reports, Horowitz delivers insights grounded in research to help companies ranging from small start-ups to Fortune 500s build brands that shine, products that delight, and messaging that engages. For more information, visit
www.horowitzresearch.com
.